MedX.Pro - Educational VR Simulator for Medical Professionals
TRAINING & EDUCATION
CLient
MedX.Pro is the largest portal for advanced training of doctors and healthcare professionals. Today, more than 35,000 doctors are trained there. Students have access to about 70 advanced training programs, several hundred lectures, broadcasts, additional materials, clinical recommendations, as well as tests to check acquired knowledge. Oncology is one of the most important areas of research. 
Services
Employee training solution
Virtual Reality Simulator
Web application development
Deliverables
A linear particle accelerator educational simulator in virtual reality and web browser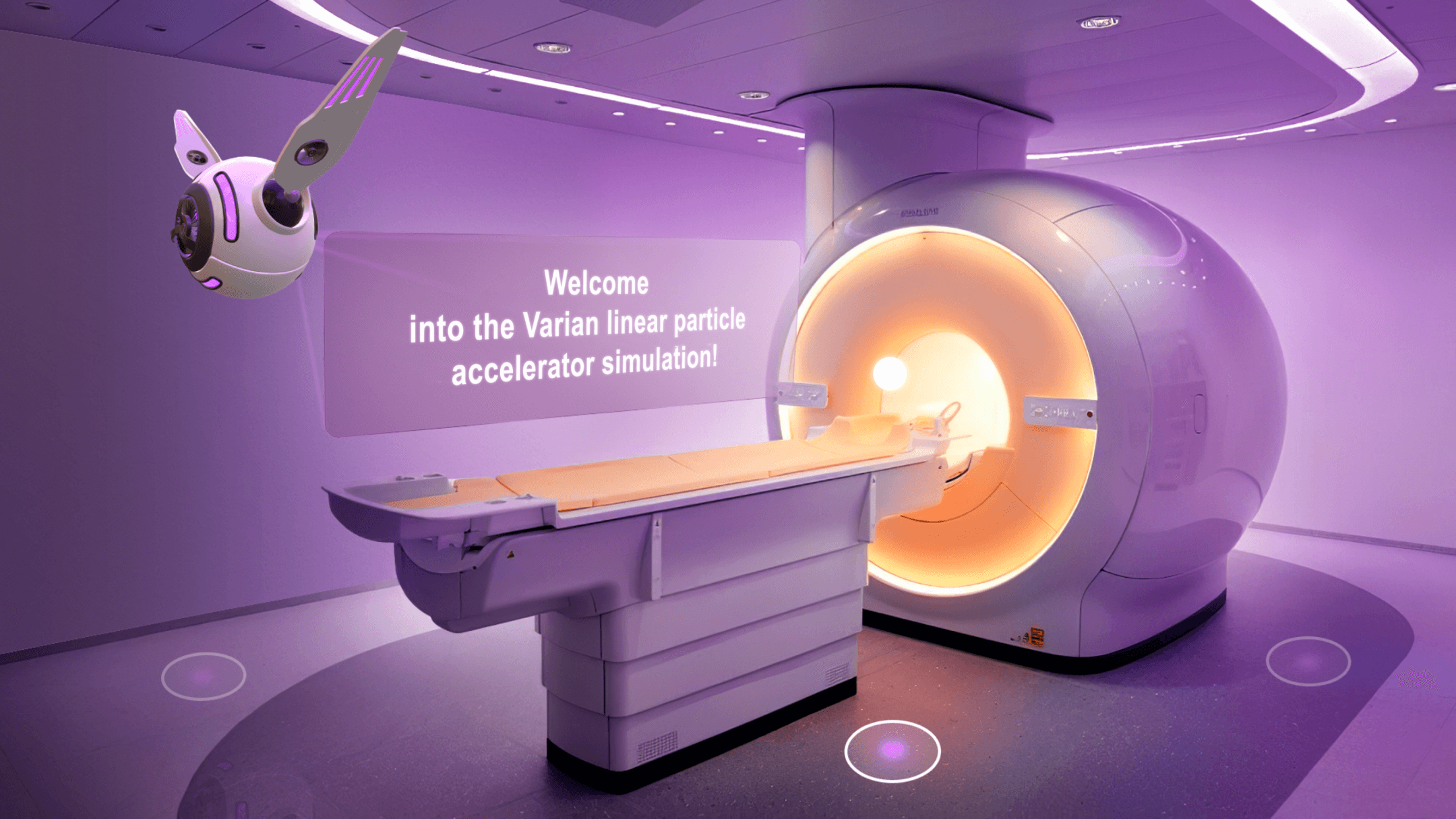 Challenge
The main task is to develop a VR simulator with 3 introductory courses for training medical professionals in virtual reality. Create realistic, animated 3D models of medical equipment located in the premises of medical institutions in conditions close to real.
Adapt VR simulator for formats:
Standalone application on the Oculus Quest 2 platform.
WebGL-module for integration into the educational platform on the MedX.Pro website 
The target audience of the project is divided into two categories:
Medical professionals.
Non-professional audience — specialists who are indirectly related to the processes of acceptance of attitudes in the field of procurement and maintenance of medical equipment.
Solution
The VR simulator consists of 3 independent training courses lasting from 20 to 40 minutes. Each of these courses includes 3 components: narrative (theoretical knowledge of working with equipment), interactive (direct interaction of the user with the equipment) and testing of knowledge for successful completion of the course.
Navigation and control of the simulator are carried out by controllers of the Oculus Quest VR helmet in case of VR mode, and the mouse / keyboard in case of WebGL mode. The flying helper bot was introduced to help users to navigate the experience. It also later became an assistant-narrator and conducted courses for users.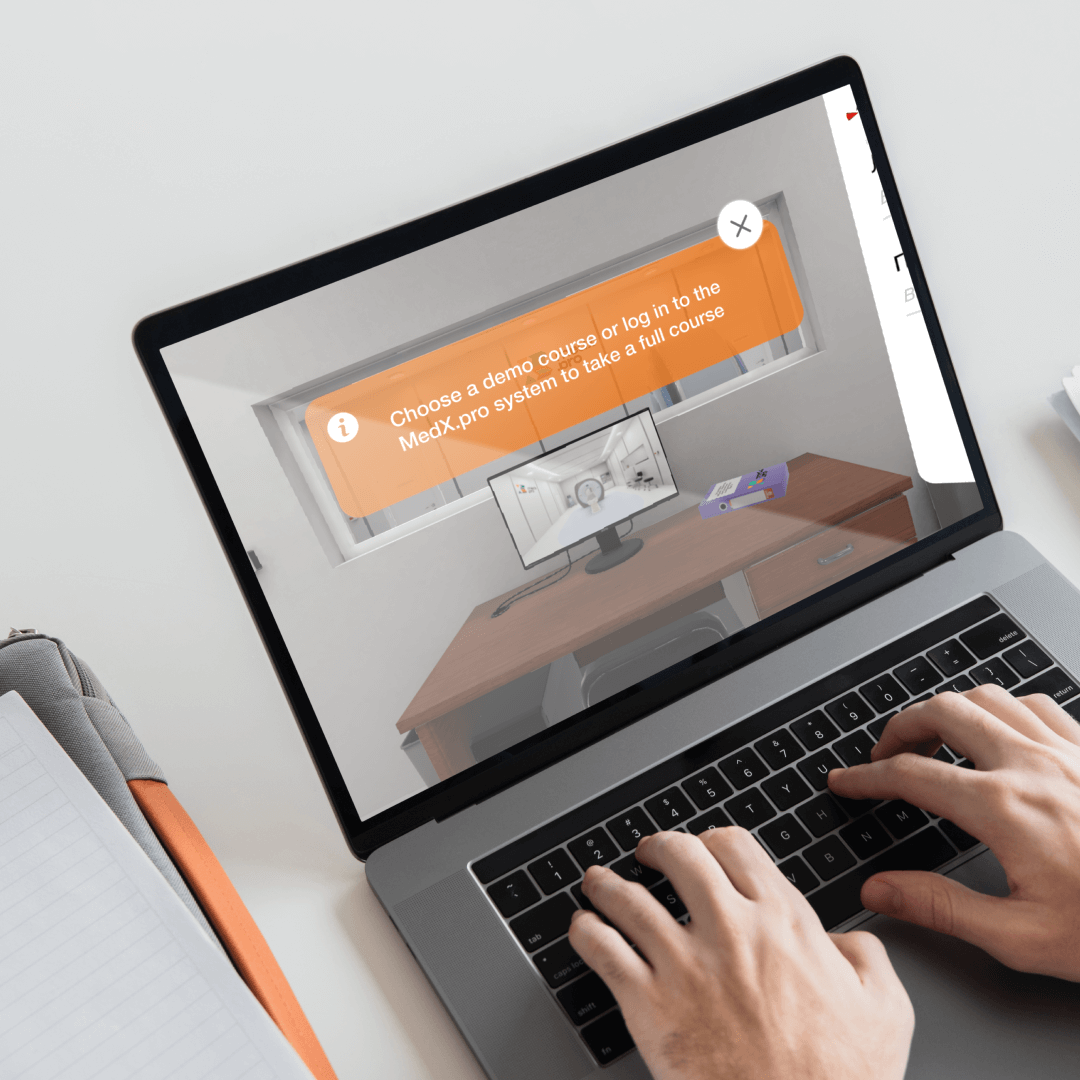 APPLICATION
Additional Features
We have also developed 5 virtual spaces corresponding to the course functionality:
Computed tomography room
Workplaces for oncologists and medical physicists
Workplace of an oncologist, radiation therapy operator
Radiation therapy room with Varian TrueBeam
Radiation therapy room with Varian Halcyon
We have put a great effort to create the most reliable and realistic representation of the equipment by working with medical engineering experts and taking hundreds of photos and videos of the real medical devices.
OUTSTANDING
Result
The VR simulator for MedX.Pro is a unique project in the medical education field.
This VR simulator enables healthcare professionals not only to be trained on multi-million dollars worth of equipment without taking a risk of damaging it, but also allows not to waste a second of the actual devices' time to keep them saving lives.
VR and AR technologies open up large-scale opportunities in the medical field. They provide savings in money and time, epidemiological safety, and most importantly, the active development of experience for young specialists in complex operations.
The CT Simulator and Linac VR Simulator is a set of 3 introductory training courses for MedX. It provides young professionals with the basics of working with linear particle accelerators for the treatment of cancer patients.
The simulator is available within the MedX.Pro platform on any Oculus Quest and Oculus Quest 2 via AppLab.